Pyestock Cricket Club
A Written History
Pyestock Cricket Club was formed in 1947 as the National Gas Turbine Establishment decided to form a cricket section to play at its sports and social club based in a secluded wooded spot in between Fleet and Farnborough in Hampshire.
In the early days employees would turn out against local sides such as Ash CC, Normandy CC and Kingsley CC for friendly fixtures along with other local clubs.
It took until 1957 for the club to register its first centurion as Derek Fray scored 121 not out against Toni CC, as it seemed bowling was the clubs early strength. Bill Short (brother of Club President Norrie) regularly topped the bowling charts, even taking figures of 8 for 18 against Normandy CC in 1976 only Geoff Bigg with 9 for 11 had ever achieving a better return in the clubs short history.
With players such as the Short's, John Tavares, Bill Abbott and George Eynon along with captain Alan Butler, the club enjoyed a successful spell during the 1960's and 1970's as the club regularly won the majority of its fixtures. As the club moved into the 1980's an remarkably consistent spell was enjoyed as an incredible 8 year period saw no fewer than 6, but no more than 8 fixtures per season won between 1979 and 1986.
In 1982, the NGTE chose to rename its sports and social club "Pyestock Sports and Social Club" prompting the club to change its identity to "Pyestock Cricket Club". As a new name dawned, a famously associated name was to gain longevity as Alan Butler's sons Neil and Colin emerged into the team alongside newcomers Brian Carter, John Branson, Brian Ball and Brian Williams, accompaning regulars Tavares, Abbott, Mick Hawley and the Shorts.
Bowling continued to prove Pyestock's main threat to the opposition during the 1980's as Branson claimed 200 wickets at an average of 11.53 and Williams 216 at an incredible 5.40 more than supporting the old school of Brian Fagg and Mick Hawley. Neil Butler was also growing into a true threat as the club moved into the 1990's
In 1991, the sports and social club built new changing rooms and a shower block to further improve its impressive facilities, and the closure of Farnborough's Ringwood Road ground brought a ground-share agreement with RAE CC along with the introduction of a contracted grounds-man. This forced the club to adapt with increasing costs dictating a change in club policy.
The club managed to attract players such as Cliff Simmons, Paul Heath, Roy Holmes, Richard Eynon (son of George) and Peter Taylor as a general relaxation of the condition that playing members had to be employees to represent the club, allowed the club to strengthen. This resulted in the most successful period in the clubs history. An unbeaten start to the 1992 season stretched into August (15 matches) was the highlight as as the club recorded only 17 losses in 7 seasons from 1988 to 1996 as the bowling of Neil Butler (who claimed 84 wickets in a record breaking 1994 season) and Heath was coupled with the improved batting strength, as Colin Butler, Taylor and Holmes (who bludgeoned 148 at Hale CC in 1995) provided the runs.
Continually reduced membership however became a concern throughout the mid-1990's as the club began to struggle to field full sides and as the 1997 season started there was a genuine concern that falling player numbers and associated lack of income from fielding guest players could force the club out of existence.
An EGM was called on 3rd July 1997 to allow members the chance to save Pyestock Cricket Club, and an action plan was set up to boost membership, blood youngsters into the side to help secure the long term future and increase funds by playing more fixtures at home.
The 1998 season proved to be the most difficult in the clubs history with only 3 of the first 17 arranged fixtures resulting in a victory. Often Pyestock were lacking the strength in depth with youngsters Lee Holmes, Chris Heath and Dan Heath called into senior cricket and the lack of quality below that of the 5 or 6 regular players was telling. On a positive note, 3 victories against Remnants CC, Badshot Lea CC and Hawley CC were achieved in the closing weeks of the season to at least make the season seem respectable against all the odds.
A strong recruitment drive before the 1999 season saw Barry Grigg, Rick Sladen, Greg Barber and Mike Ensor (a former minor counties league player with Dorset) join the club and fortunes began to improve, and Pyestock Cricket Club celebrated the turn of the millennium on a more stable footing.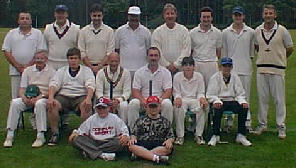 Pyestock Cricket Club
2000 Season
Back Row: R.Sladen, G.Barber, B.Grigg, P.Heath (Umpire), Roy Holmes, C.Butler, M.Holden, D.Lee.
Front Row: N.Short (President), L.Holmes, M.Ensor (Vice Captain), N.Butler (Captain), C.Skinner, C.Heath
Sitting: D.Heath, Ross Holmes.
Results and performances continued to improve as Mike Ensor and Paul Heath (who scored a club record 150 not out on the final day of the 2002 season) struck a fluent opening partnership in an often strong batting line up. The bowling talents of Neil Butler and Ensor, backed up by Dave Lee, Roy Holmes and Colin Butler brought victories against sides such as Haslemere CC as well and newly acquired friends Farncombe Wanderers CC and Peper Harow CC who fitted in well with the friendly ethos already long established with sides such as Kings CC, Badshot Lea CC, Remnants CC (Now Old Woking CC), Weybourne CC and Hale CC.
N.G.T.E. Pyestock was decommissioned and closed down in 2000, however with the majority of the playing staff now unconnected with the establishment, the cricket club continued renting pitches from the social club in a true "business as usual" scenario.
The aforementioned partnership of Ensor and Heath at the top of the batting order paid true dividends in 2003 when on a memorable afternoon at Hawley CC, an unbroken partnership of 245 was shared by the pair, both scoring a century in the process. 2003 also saw Norrie Short presented with a silver salver to commemorate an incredible 40 year association with the club in front of his delighted teammates.
As the 2000's progressed, Pyestock CC continued to strengthen, additions such as Dave Osgood and a returning Richard Eynon brought considerable batting and bowling experience with Chris and Dan Heath also growing into the team the regular eleven was described by President Norrie Short as "the strongest he had ever seen"
Despite this, Pyestock Cricket Club suffered a turbulent 2005 season, a career ending and life changing injury to Mike Ensor while batting at home to Old Woking CC will remain in the memories of all those who played that day, and only 4 games were won in a season that should have produced plenty more. It was felt that Pyestock had lost its friendly nature with many games developing a competitive "win at all costs" mentality which was playing into the hands of clubs who regularly field league sides and were unfazed with the approach.
Despite trying to rectify this, 2006 saw similar problems culminating a farcical match at home to Kings CC, who's once friendly relationship, had soured into an Ashes style rivalry. Pyestock found themselves needing to reinvent themselves. Discipline was improved as some players decided that competitive cricket would lie elsewhere and departed the club, leaving Pyestock with the original core that could enjoy its cricket once more.
Throughout the 2000's, Pyestock benefitted from an increasing relationship with Aldershot CC who had removed their Sunday 2nd XI side leaving many talented players without a game. Jon Ford, Chris McGovern and Del Smith were introduced and brought quality to the side, Ford immediately made the opening batting position his own with competent and impressive displays and continues to play to this day. To the mutual pleasure of both clubs the fixture with Kings CC was resurrected in 2010 and friendships restored and maintained.
2011 saw the club play its first "overseas" fixture as they took on Porchfield CC on the Isle of Wight and claimed a creditable draw against an impressive side, but 2012 proved to be one of the most successful in the clubs history as 13 victories were recorded, including a mighty victory against Porchfield CC as well as other victories against high quality sides including Bedhampton Mariners CC, Old Woking CC and Eversley CC. Neil Butler added to the 165 not out he scored at Badshot Lea CC the previous season to also claim the bowling all time record as he took bowling figures of 9 wickets for 6 runs in a one-man demolition of Warfield CC.
Despite the increased strength on the pitch, difficulties lay elsewhere, with costs spiralling and facilities waning at the clubs home since its inception, Pyestock Cricket Club historically decided to leave the Sports and Social club at the end of the 2012 season, it was a decision that was not taken lightly as years of fabulous moments had been made and the venue will always remain the spiritual home of the club. It was felt however that the club could grow and thrive from the sports and social club, and ultimately were left with no option but to resign as members of the venue.
2013 saw Pyestock CC embark on a new venture as a nomadic side, and although statistically it proved to be slightly less successful, this was more than made up for with a highly memorable season. Amongst the superb spirit instilled into the side by new chairman Pete Harris, Pyestock Cricket Club embarked on its first ever tour, playing two matches on the Isle of Wight, as well as discovering many more fabulous clubs who extended their hospitality over the season, Sides such as The Bourne CC, Tadworth CC, Harpsden CC and Royal Ascot CC all made a positive impression and allowed the side to test themselves against new friends. This breakthrough year was also incredibly synonymous for the achievements of Glenn Taylor an opening batsmen in his third season with the side who smashed a club record 1,105 runs throughout the season that included an unbeaten 172 at Hillingdon Manor CC, then a club record. Norrie Short was added to the team for the final match of the 2013 season to ensure he has played at least one match in the club's last 50 seasons. A truly monumental achievement!
2014 proved to be a very successful season with seventeen out of twenty-four matches won, smashing the previous best. There were celebrations all round as long standing captain Neil Butler claimed his 1,000th wicket during the season. The now annual tour to the Isle of Wight saw 2 impressive victories over Brading CC and a Porchfield CC side that contained county standard under 21 players, showing just how far the club has progressed from the struggles of the late 1990's. Glenn Taylor, who scored a scarcely believable unbeaten 221 at Worcester Park, continued to go from strength to strength in 2017, and re-wrote most of what are now practically his own records with no less than four centuries included in 1,200 runs scored at an average of exactly 80. A more modest 2018 results wise saw another batch of youngsters blended into the team, but the season will be remembered for the final match of the season at Peper Harow, which was tinged with sadness as Norrie Short, who had only 3 years earlier claimed remarkable bowling figures of 3 wickets for just 1 run while aged 80, announced his retirement from playing after respresenting the club for 55 years.
Further youngsters have been added to the side as the old guard becomes ever-more aware that the next generation needs to established to take the club through the next decade (the clubs ninth!) With high hopes for the likes of Jack Bromley, Ben and Sam Armes, Tom Threlfall and Jake Baldwin, the club can continue to thrive. The 2020 season faltered with Covid-19 running rampant across the globe, but the club still managed 12 fixtures in the second half of the season to maintain momentum that is crucial to the clubs survival, and a more normal 2021 allowed the club to take stock and prepare for its 75th season in 2022.
The new season is eagerly anticipated, with a new captain in Paul Bright and the clubs first social secretary, Charlie Eve, along with commemorative playing shirts, the members that make Pyestock Cricket Clu what it is, are determined to make this season one to remember!
Compiled by Chris Heath – December 2013
Updated - March 2022.
Roll Of Honour - 1969 to Present
Pyestock CC Match Information 2000 - Present
Results by Opposition 2000-Present